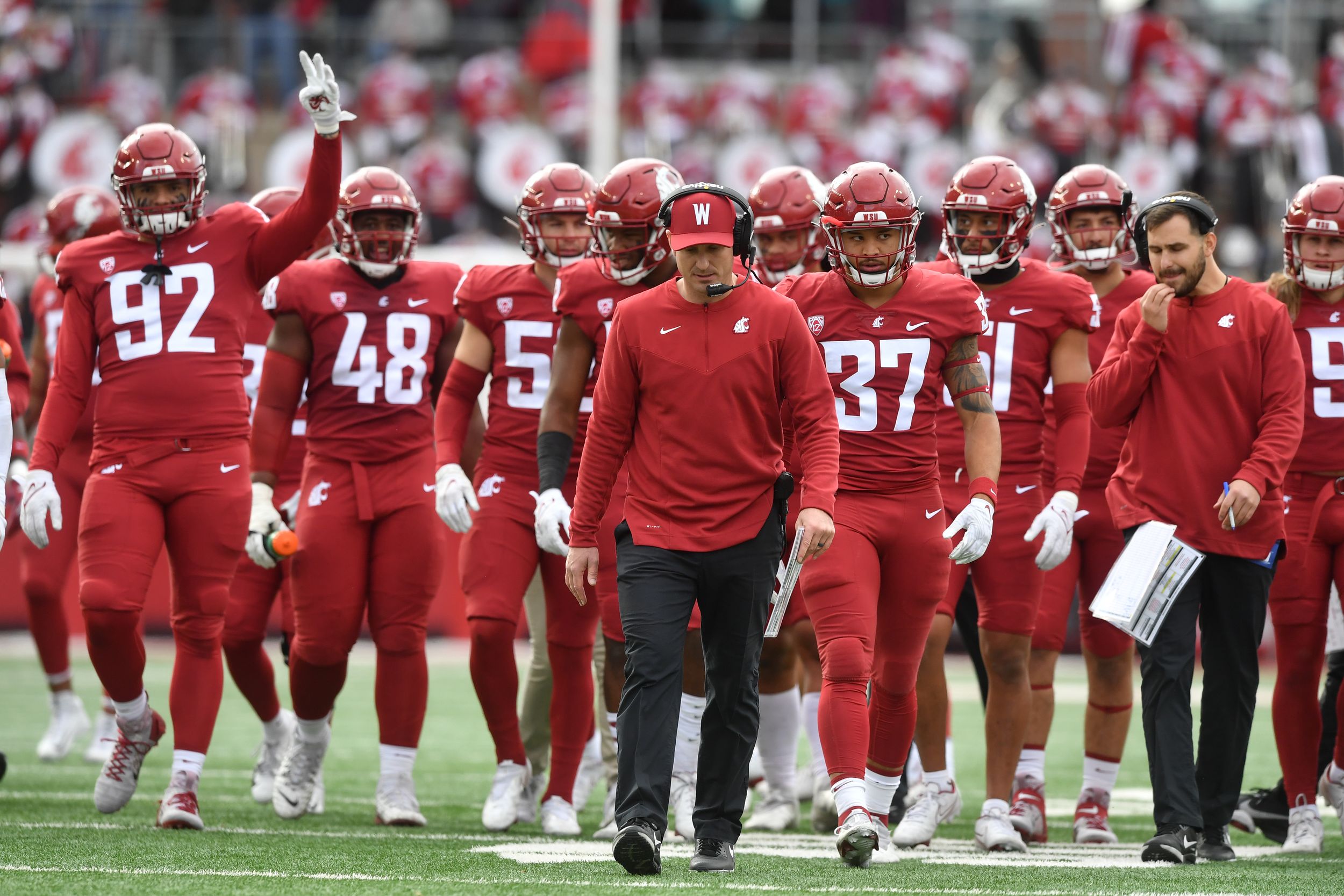 A week after receiving nothing but tricks from BYU, the Cougars (4-4, 3-2) will look to snag a full-size candy bar down in Tempe against the Arizona State Sun Devils (5-2, 3-1) and they sure could use it.
Matchup History
The two schools met nearly annually since the Sun Devils joined the conference in 1978. ASU leads the all time-series with a 28-15-2 record. Since Utah and Colorado joined during the 2011 conference expansion, the two haven't been seeing each other as often with only two other meetings since 2016.
Coming into a cold, wet and snowy 2011 Pullman night, the Cougs had lost five in a row after starting the season 3-1. Head coach Paul Wulff turned to freshman quarterback Connor Halliday early in the game when Marshall Lobbestael struggled. Halliday would hit a wide open Marques Wilson on his first snap of the game for an 85-yard touchdown. Halliday and all 6'7 of Brock Osweiler would trade body blows in a game of anything you can do I can do better that ended in favor of Halliday and the Cougs in a 37-27 victory. Halliday finished with 494 yards and four touchdowns.
ASU would route the Cougs in the next three matchups, winning by at least three possessions in each game before WSU would pull out back-to-back wins in 2015 and 2016.
In their latest meeting in 2019, the Sun Devils put together a perfect two-minute drill down by three that ended with quarterback Jayden Daniels running it in from 17-yards out and flying over WSU defenders at the goal line for the go-ahead touchdown with just 34 seconds remaining. The Cougs would get within range for a hail mary attempt from 43 yards out but Anthony Gordon was brought down as he threw resulting in an incomplete pass as the clock hit triple zeros.
The 2021 Arizona State Sun Devils
Herm Edwards Sun Devils opened as a Pac-12 South contender in a highly competitive division and have held their own so far. They enter Saturday with a 5-2 record with losses to Pac-12 nemesis BYU and division foe Utah two weeks ago that dropped them from the AP Top 25 and down to second in the south division. Their only real 'resume boosting' win came at the Rose Bowl when they knocked off then No. 20 UCLA 42-23.
Meet the Sun Devils
Third-year starter Jayden Daniels will be taking snaps for the Sun Devil offense. After a promising freshman campaign that saw him throw for 17 touchdowns and run for another three on only two interceptions, Daniels has continued to shine as an accurate passer and serious threat to scramble. He's completing passes at a nice 69% rate with six of his 10 total touchdowns being through the air. Two of this three interceptions came in Provo against BYU. His legs are just as nice as his arm as he's ran the ball 69 times for 401 yards and four touchdowns with his longest carry being a 51 yard keeper after getting the Cardinal defense to bite on a pump fake.
Just 76 yards ahead of Daniels is ASU's leading rusher Rachaad White. White leads the three running back attack with a team-high 86 carries and nine touchdowns. Second-year backs Daniyel Ngata and DeaMonte Trayanum join in on the rushing attack as both running backs have scored three times on the ground. Ngata averages 6.7 yards per carry to Trayanum's 5.2. ASU has four different players with over five yards per carry on at least 38 attempts. That is what the experts would call good to say the least.
ASU only averages about 25 passing attempts per game but their receivers have made every attempt count without a WR leading the team in receptions or yards. The passing game ranks just 7th in the Pac-12 but their top three leaders in receiving yards average over 13 yards per catch with the leader being TE Curtis Hodges. At 6'8, Hodges is a tough target to contain to say the least. He'll come into Saturday with 16 catches that average out to over 20 yards per catch. RB Rachaad White leads the team in receptions with 27 out of the backfield. The leading touchdown receiver is Ricky Pearsall with just two. LV Bunkley-Shelton and Johnny Wilson are the only other listed WR's with touchdowns.
Arizona State's defense as been the driving force to their 5-2 record as they lead the Pac-12 in scoring defense, sacks and total yards per game while ranking third in passing yards per game and forth in rushing defense. This defense is no joke. The longest play they've allowed all season has been just 35 yards. Four of the defensive lineman for the Sun Devils have recorded at least two sacks and senior linebacker Darien Butler also has two and a half sacks on top of the team-high three interceptions he's snagged.
Odds
ESPN's Football Power Index slates the Sun Devils at an 86.7% chance to win and a spread of -16. The Sun Devils should be motivated and well-rested coming off the loss to Utah heading into the bye-week so the 16 point spread here seems about right.
Keys to Success
The run defense is going to have to step up in a major way if they want to stay in this game especially at stopping a mobile quarterback. ASU has a variety of ways they can beat you on the ground with three different running backs and Daniels is one of the best at scrambling through the defense. WSU's front is going to have to do a good job of containing Daniels and limiting any damages he may cause with his legs.
On offense, the line has to keep Jayden de Laura upright as best they can. ASU is the best in the conference at getting the quarterback in the turf and their secondary contains the big play so for de Laura, he just needs to keep it simple and just take whatever the defense gives him.
Max Borghi looked better last week and hopefully he can carry it over into Tempe. The ASU run defense, while still stout, isn't quite as good as it's pass defense. Deon McIntosh should be back this week which should help the running game as well.
Bottom Line
This is as tough as a game as it gets. ASU is coming off a bye-week, hungry to prove themselves, needing to win to keep pace in the close Pac-12 South and should have a rowdy Halloween weekend Tempe crowd to back them while the Cougs are coming off a heartbreaker against BYU and playing for the ninth straight week.
It's crazy that we are already three quarters of the way through this season. For the Cougs, time is starting to work against their bowl hopes. The loss to BYU seriously hurt WSU's chances at a bowl game as they are now staring at likely needing to win one game on the road to get in and those games aren't exactly easy. Arizona State and Oregon are both Pac-12 title contenders and the trip to Seattle is never easy. They do get the lowly Arizona Wildcats at home to help the odds but still need to find a win on the road somehow, someway in the mix.
The bye week awaits the Cougs after this week and a week to think about a win in Tempe after what this team has been through over the past few weeks would be a serious morale and confidence boost.
In order to achieve this, the offense is going to have to have their best game yet against a very tough defense. They have the playmakers to make it happen but just need to put it all together.
Noon PST is the time for kickoff on Saturday in what should be nearly a 40 degree difference in Tempe and Pullman at 88 and 50 degrees respectively.