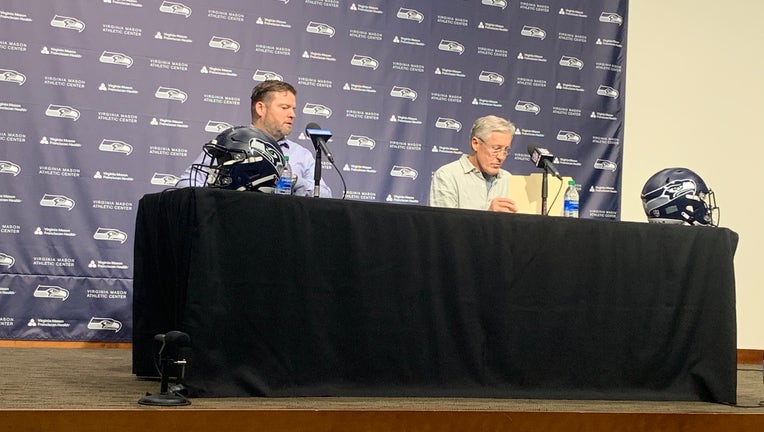 With the NFL draft kicking off this week, there's little time to research much more before everything unfolds. The NFL draft is typically unpredictable, and this draft is no different. The Seattle Seahawks always march to the beat of their own drum, drafting someone off the experts' radars. This leads to fans and sports analysts alike being shocked year after year.
Luckily the Seahawks have over a decade of draft history to look over. Based on need, draft history, and the direction the team is heading this offseason a mock draft that makes sense for this front office is created. Using many big boards, the names Seattle could select will be in this mock draft.
Here is the complete list of picks before we begin the mock draft.
Round One – #9 (from Denver Broncos)
Round Two – #40 (from Denver Broncos) #41
Round Three – #72
Round Four – #109 (from New York Jets)
Round Five – #145 (Denver Broncos) #153
Round Seven #229
Round One
#9 TRADE with the Pittsburgh Steelers
Steelers receive: pick #9 and Denver Broncos 2023 Second-Round pick.
Seattle receives: pick #20, #52 (Second-Round), Pittsburgh Steelers 2023 First-Round Pick
The most Seattle thing to do would be to trade down. Draft experts have declared this draft as weak for top-tier talent. On the flip side, it has great positional depth in many areas. Making more picks, the better. Traditionally the front office likes having 10 or more draft picks. Having the ninth overall pick gives Seattle a great tool to get a haul back and helps make up for only having three draft picks in the previous year's draft.
Pete Carroll has claimed they won't draft a QB at number nine. If Malik Willis slides, the Pittsburgh Steelers may see an opportunity to jump past a QB needy team like the Washington Commanders.
Pick #20 Seattle Selects
Desmond Ridder – QB – Cincinnati
6' 3" 211 lbs.
Seattle said they would not pick a QB at number nine, that does not mean a QB won't be their first pick. When it comes to finding a quarterback John Schneider has said he likes multiple bites at the apple when it comes to finding the next guy. Seattle trading for Drew Lock, re-signing Geno Smith, and drafting a QB would be the same formula as last time. Before Russell Wilson, Seattle traded for Charlie Whitehurst and signed Tarvaris Jackson and Matt Flynn.
Seattle can use a first-rounder on a QB and have an extra first-round pick in 2023 just in case Ridder doesn't work out.
Breakdown on Ridder
Ridder feels like the best QB fit of any QB in this class for Seattle. It may be evident with Ridder being the only QB to visit the Seattle Seahawks in pre-draft visits. Unlike Wilson, Ridder could be molded to run the Rams system for the offense. Ridder is tall and can see over the middle, using tight ends and checking down. Ridder has enough arm strength and can hit the backside dig, which is a route concept that is huge for Waldron. Ridder's style fits the system that critics of Wilson say Wilson didn't want to adapt to.
Ridder goes through progressions, can run if needed, has the 4.52 40-yard dash speed to improvise, and above all, he is ultra-competitive. Ridder has won the third-most games in FBS history with a 44-6 win-loss record. Desmond Ridder screams Seattle QB prospect. In the past, it's been reported that Seattle was interested in drafting Josh Allen and Patrick Mahomes, even though they had Russell Wilson.
Ridder's biggest flaw is accuracy. He's inconsistent as a passer, a flaw that will scare a lot of teams. Josh Allen had that exact problem and was able to fix his mechanics eventually. However, Josh Allen has more arm strength and has more star potential.
Value of the Pick
Ridder's projection is to be an early second-round pick as of now. In the month leading up to the draft Ridder has developed a support base. He looks like a ready-made system QB. Seattle has made it clear they're about running and playing balanced. Seattle says they aren't rebuilding, and Malik Willis has more star potential but will need time to develop. Seattle would have a cost control QB with a fifth-year option if they pick one here.
QBs no matter how bad the class, will go early. Seattle will have to reach no matter what, but trading down minimizes the cost. They'll look for a move that adds more draft picks to restock the team while taking a shot at QB to compete.
Desmond Ridder ticks every box for Seattle. Getting a quarterback and more picks would be their ideal start to the draft.
Round Two
Pick #40 Seattle Selects
Tyler Smith – OT – Tulsa
6' 4" 324 lbs
Both tackle positions are a glaring need Seattle needs to address early in the draft. Tyler Smith makes a lot of sense as a high upside prospect to work with. Young, powerful and athletic are all the pieces new offensive line coach Andy Dickerson would want to work with.
Breakdown on Smith
Tyler Smith enters the draft as a redshirt sophomore, only just turning 21 years old this month. Having the potential to be a blue-chip caliber player. With his size, arm length at 34", Smith can keep defenders away and power through on the rush. Smith has the bully mentality the Seahawks like and can get to the second level with his athleticism.
The knock-on on Smith is his technique needs a lot of work to reach his full potential. Smith has sloppy hand placement and needs to refine his footwork. In college, he could make up for his lack of technique with raw power and athleticism. When facing higher-profile competition in college Smith would struggle.
Ultimately, when it comes to rebuilding the offensive line, going for a prospect that has all the physical tools makes sense for round two. Most linemen need to learn the technique to make it in the pros. Smith can be the future LT and isn't a huge investment if he gets the right coaching.
Pick #41 Seattle Selects
Sam Willams – Edge – Mississippi
6' 4" 261 lbs
Seattle has a history of reaching high on edge rushers when they are dynamic on the field. Off the field, there are issues that interested teams will have to address with their fan base. Williams is a name that many draft lists aren't listing until round three. In reality, all it takes is for one team to fall in love with his major athletic traits.
Breakdown on Williams
Starting off with the most important issue, William's arrest in June 2020 for sexual battery. Sam Williams was then suspended from the Ole Miss football team. Later the charges were dropped, allowing Williams to return in the fall. A similar case Seattle has faced was Frank Clark being arrested and having charges dropped for domestic violence. The key for Seattle to draft someone with this background may be the dropped charges. Pete Carroll loves being someone that can turn young men's life around. Second chances are typically the message if they investigate and think they know the situation isn't repeatable.
Now for the reason, the Seahawks would take Williams, he's the ideal Edge prospect for Seattle. Williams has the size and the pressure percentage that is greater than some first-round prospects. On 14% of Williams's pass rushes he brought pressure, compared to a possible top ten pick Jermaine Johnson II's 12% rush rate. Williams has the power to bull rush, with 4.46 speed to fly, along with 33" arms to keep the offense from getting a hold on him.
Williams has the tools that Seattle loves with the size they like. With a hybrid defense that uses both 3-4 and 4-3 schemes, it is useful to have bigger bodies that can cover or rush. Allowing for scheme flexibility on defense to keep it fresh. Williams may be the key guy they target in the second if they miss out on Edge if the position gets picked early and often.
Pick #52 Seattle Selects
Quay Walker – LB – Georgia
6' 4" 241 lbs
With the loss of Bobby Wagner, getting a new linebacker makes perfect sense. Now that Seattle is moving into a new 3-4 scheme, getting an inside linebacker to compete with Cody Barton gives Seattle depth.
In a Vic Fangio-style defense the two inside linebackers aren't huge run stuffers, they're smaller coverage linebackers that cover tight ends and running backs. Quay Walker has a 4.52 40-yard dash speed and is an excellent coverage linebacker.
Walker was a two-year starter at Georgia and had to wait for him before he took the field. Walker has terrific play recognition and can help coverage from the linebacker position. Seattle has had trouble defending screens since K.J. Wright has left. Walker may not be the strongest, but paired with Jordyn Brooks it'd be a perfect blend on the inside.
Pick #72 Seattle Selects
Cam Taylor-Britt – CB – Nebraska
5' 11" 196 lbs
Taylor-Britt is an aggressive zone corner that can run and compete. A three-year starter and team captain with great footwork. Seahawks like intensity and the ability to lead, the front office tends to gravitate toward the college captains.
With 4.38 40-yard dash speed needed in today's game to cover small track field style receivers, Cam Taylor-Britt has the tools that already attracted Seattle to have for a pre-draft visit. His weaknesses are poor open field angles and being burned by double moves. Seattle will look at his weakness as correctable.
With the speed, footwork, and tough mentality, Taylor-Britt has the tools to play CB for the Seattle Seahawks and develop. Believe it or not, in the Pete Carroll/John Schneider era this pick would be 18 higher than the currently highest picked cornerback Shaquill Griffin.
Round Four
Pick #109 Seattle Selects
Cam Jurgens – C – Nebraska
6' 3" 303 lbs
Another three-year starter at Nebraska Seattle can be found in the middle of the draft. Jurgens could be a day three pick because he lacks size. Playing at 290 lbs. in Nebraska and not having versatility on the line may lead him to be overlooked. Jurgens is a good run blocker that can play the zone scheme. On top of that, he made the calls upfront and can lead the line. With a lack of size, some teams will see no value, but he'd be a great day three pick to challenge Austin Blythe, a similarly sized center to Jurgens.
Round Five
Pick #145 Seattle Selects
Zamir White – RB – Georgia
6' 0" 214lbs
Based on a decade-plus of this regime we know how much the run game matters. Resigning Rashaad Penny is step one of getting back to the run. With Chris Carson's health still in question, Seattle needs depth in the run game.
Zamir is a big back from Georgia that served as their switch-up back. A lot of gems can be found on this Georgia team because they could rotate so many some may not stand out. White has 4.4 speed with a big body. He's had ACL tears in both knees so injury risk will keep teams away. When it comes to day three picks, a high upside number two back is a great risk. He'd be a great addition to work into the new era of rotating backs like the Los Angeles Rams and San Francisco 49ers do.
Pick #153 Seattle Selects
Michael Clemons – Edge – Texas A&M
6' 5" 263 lbs
This pick is comparable to Sam Williams on and off the field. For off the field in September 2021 having "multiple charges including unlawful carrying of a weapon, failure to identify/giving false information, less than two ounces of marijuana possession, and driving with an invalid license."
On the field Michael Clemons has size. Playing heavier at 270 lbs. adds depth and flexibility on the line. Clemons isn't dynamic or flashy, but he is long and forceful.
The reason Seattle loved L.J. Collier was his "powerful hands." Seattle covets powerful hands that can punch and bully the opposition. Clemons can do just that with 34 ⅞" arms with 10" hands, it is just pure explosive power that you wouldn't want to line opposite against. Staying low can be a problem with his size, at a certain point height can hinder technique. With his off-field issues, some technique refining is needed, no athletic numbers stand out, will have Clemons as a back half of the draft edge that can produce.
Pick #229 Seattle Selects
Max Borghi – RB – Washington State
5' 9" 210 lbs
As previously stated the Seattle Seahawks need to rebuild the running back room. Drafting a couple of day three backs to compete with Travis Homer and DeeJay Dallas makes sense to sure up depth.
Coming out of Washington State University Max Borghi is a name this region knows. In his first two seasons at WSU playing for Mike Leach's Air Raid system, Max Borghi caught 139 passes for 971 yards. Scouting reports on Borghi doubt he'll have success as an NFL rusher. Being passive, not attacking the middle of the field, overall not having the momentum to go forward.
For Seattle, Max Borgi would diversify the running back room. Seattle has no true third-down running back. Travis Homer is a great pass blocker, but he is no threat to run. It tips the offense's hand to the defense that a pass is coming. Max Borghi had to protect the quarterback and catch out the backfield or he wouldn't have played his first two years.
He may be a better runner than credited for. Max finds the endzone having 12 rushing touchdowns his Senior year. In round seven finding a back that can catch and block can provide value to the offense.
End of Mock Draft
In this scenario, Seattle had nine picks and split the picks for both sides. The offense would select five players
QB, LT, C, RB, RB.
Defense getting four
DE, LB, CB, and DE.
Seattle wants to fix the defense and run the ball. This draft would stock the team to compete this season.
Draft Schedule
Round one of the draft starts Thursday at 5 p.m.
Rounds 2-3: Friday, April 29 (4 p.m.)
Rounds 4-7: Saturday, April 30 (9 a.m.)