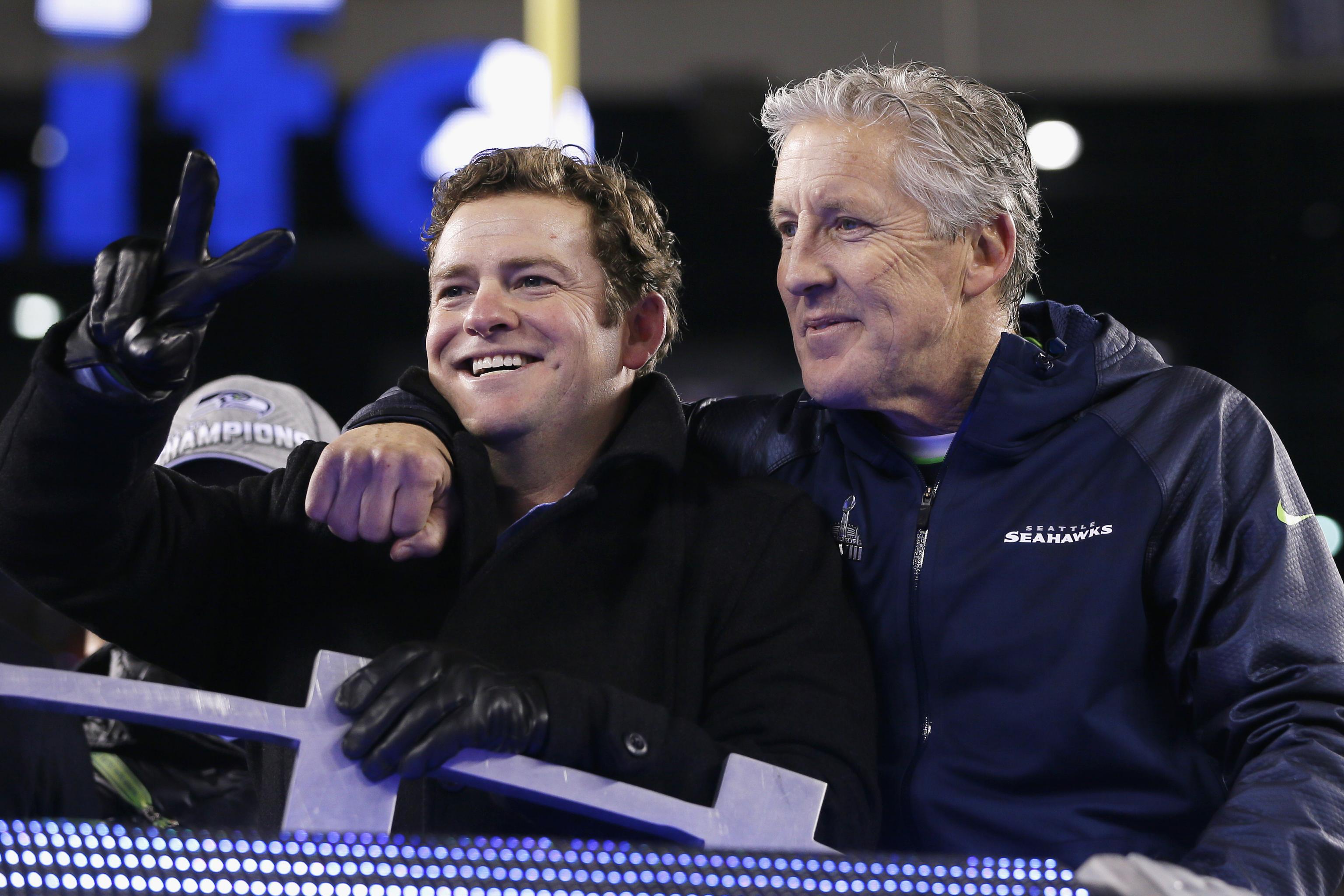 With the 2021 Season bringing doom and gloom thanks to a slow start and the franchise quarterback dealing with an injury, I wanted to look at how we got here. The big reason is that the team isn't great. Arguably above average with a top-tier QB now we must examine the roster without their face of the franchise. Geno looked good Thursday night and he ran the offensive scheme well enough to be competitive. But what will the team look like in the upcoming weeks?
Seeing The Cracks
Something happened Thursday night last week that we haven't seen in Seattle for almost a decade; Russell Wilson couldn't finish the game due to injury. Injuring his middle finger on his throwing hand. Timetables have him out from a month to two months. Something Seattle hasn't seen; a different quarterback will be leading the team for the foreseeable future. Under .500 and with a backup quarterback playing for 25-50% of the season.
Lately, the team has felt patched together year after year. Looking over the defense we can go position by position. Cornerbacks have dissolved into one of the worst groups in the league. As of now the only corners under contract for the 2022 season are Ugo Amadi and Marquise Blair. The safety group for the hawks is good but controversial given the cost. An aging star linebacker and a first-round pick that looks meh. The line has some promising young rushers and Poona Ford to stabilize the middle.
Switching to offense the line needs to find upgrades next year at center and right tackle. On the left side, the starters are over 30 with only one under contract in Gabe Jackson. Tight ends have no starters signed for in 2022. One of the best wide receiver duos in the league with a trusted running back that is productive. All this with an upset Quarterback making it known this past off-season that he is tired of not making it to the super bowl. Wilson's frustrations of getting hit all the time began to be vocalized in the offseason, now has manifested on the field with a hand injury. The team has cracks that have been spreading over the last few years. With all the pressure in 2021, the roster may finally burst and crumble.
How Did This Happen?
The team frankly just never developed prospects after the beginning of their regime. Not that every player must be Hall of Fame-worthy like Sherman or Wagner. It would just be nice to draft someone that the team would give a second contract to. Since 2013 the Seahawks have only kept Justin Britt, Jarran Reed, Tyler Lockett, Chris Carson, Michael Dickson, and soon-to-be D.K. Metcalf after rookie deals. That is how a team crumbles, poor drafts with no players to be foundational pieces. To be fair they did draft Frank Clark and Shaquill Griffin letting the latter walk this offseason.
Clark got traded and did get valuable assets for the team to restock with. In 2019 the Hawks only had four picks (a pattern?) and traded Clark to pick up a first-rounder and an additional second-rounder in 2020. Having two first-rounders is not a bad position to be in. It helped them be able to maneuver and get Metcalf late in the second round (unfortunately picking Collier with Chief's first-rounder). Looking back through the Hawks drafting was more brutal than I thought. Not only did they only pick those eight names I mention over seven years (just over one player a year is not a good rate), but they were also abysmal in draft positioning.
Poor Draft Choices
When it came to the Seahawks and the draft the front office seemed to be magicians of the draft. Pulling 12 starters over three straight drafts. Multiple Hall of Famers, core franchise starters, an undrafted star in Doug Baldwin, trading lower round picks for Marshawn Lynch. Everything around the draft just seemed to produce stars, at worst starters. Of course, there were misses but the success rate was over half per draft.
Now they get about one starter per draft, why? Well, one reason I mention is draft positioning. Unlike the early years being in the top half of the draft, now they were drafting in the twenties. Not having a first-rounder in five of the nine drafts post this regime's opening three. But what they did with those missing first were foolish in all cases.
Trading Down
In 2017 Seahawks traded down twice from 26th to 31st picking at 35th overall netting five players. Getting four additional players only losing out nine spots is smart. The execution, however, was not great. They only acquired Malik McDowell, Delano Hill, Tedric Thompson, Mike Tyson, Chris Carson. All in all, a first for the value of Carson's career isn't horrible. It's just that Carson was drafted #249 overall there was missed potential value. The players that went after 26th Tak McKinley? Tre'Davious White, T.J. Watt, Ryan Ramczyk. Budda Baker was picked right after McDowell by the now 5-0 Cardinals. These poor choices rear years down the line, here we are.
In the 2018 draft, Seattle finished 9-7 the previous season and had a decent pick in the late teens. Again, trading down and netting Rashaad Penny, Rasheem Green, Jacob Martin, Alex McGough. Who'd they miss out on? Well, the Packers who traded up with the Seahawks at 16th and got an elite corner in Jaire Alexander. For the Packers to get the Seahawk's pick, targeting a corner that the Seahawks desperately need now hurts the most in my research. Not only that but they picked at 27th an injury-prone backup running back that is almost guaranteed not to be resigned by the Seahawks this offseason. Also, if running back was the position the Seahawks needed to pick, at 35th Nick Chubb was selected. They ended up with quantity over quality over most these days one draft classes.
Trading for Veterans
Geez, if they couldn't draft it is best to trade for proven players then right. Luckily, they did that, and they all worked out. Seattle got Quandre Diggs, Duane Brown, and Jamal Adams? Amongst the fan base, Adams is debatable. Two first and a third, paired that with top safety in the league extension and the cost leaves no room for error in this move.
Also, I may be sarcastic with every veteran they trade for works out. Turns out there is a lot of misses. Big shots to miss as well. Turns out a first, seventh, and following year third-round picks for Percy Harvin wasn't good for the franchise. That first-round pick by the Vikings ended up being Xavier Rhodes. A lot of corners I noticed were picked around the Seahawks. Really good ones too. Deandre Hopkins was two picks after Rhodes by the way. A double whammy hit for the Seahawks in this draft. Why? The Texans then traded Hopkins to? Yup the now 5-0 rivals of the Seahawks. All that for a WR that played eight games when they had Doug Baldwin and Golden Tate. That was just the Harvin trade!
2015 Seattle traded their 31st overall and Max Unger for Jimmy Graham. In their defense, this was a bad draft. After 31st Seattle got great starters. Frank Clark and Tyler Lockett may be the best players since the top 10. Ali Marpet, Eric Kendricks in the second are some notable players. So, Seattle may have gotten the best value in this draft. Busts were all over the board. For the anti-Graham crowd, I'll say this, you could have kept one of the best centers in the league at the time. Then drafted another lineman like Marpet and tried to build an amazing line for a rising star in Wilson.
A quick few Sheldon Richardson of the Jets was a one-year rental for Jermaine Kearse and the 2018 49th overall pick (stop trading with the Jets) although the Colts won out the most on this transaction. Jets traded up packaging this pick for Sam Darnold. Colts got Quenton Nelson, Braden Smith, Rock Ya-Sin, Jordan Wilkins. Jadeveon Clowney was another rental costing them 2020 third and two depth players. No noticeable players were missed out on when the Seahawks got Colby Parkinson in their next pick in the fourth round of the 2020 draft.
Free Agency Fiasco
The Seahawks are very conservative when it comes to free agency. They sign veterans to one- or two-year deals at max. A lot of low-cost moves that can't hurt them. 2017 with Mike Davis and Bradley McDougald might be the most impactful signings in the last few years. Just yearly depth pieces have been the M.O. of the team of late.
But low-cost moves still be negatives it turns out. Recently the majority of signings are just wasted money. If it is yearly wasted money, might as well go big. Greg Olsen is the biggest buy and that was just nothing for the team. B.J. Finney got $4 million a year on a two-year deal and was traded to the Bengals that season after not being a starter. Witherspoon for $4 million this year was traded before the season started for a fifth-round pick. Back-to-back year of potential starters being traded and losing money to buy late-round picks.
Wasted Resources
In 2019 at Seattle's biggest position of need it had great names in this free agency class. Preston and Za'Darius Smith both went to the Packers for four years. Both late twenties at the time for about $13 to $17 million yearly for the two contracts combining for 25.5 sacks their first year in Green Bay. Shaquil Barrett was also signed for just five million in 2019 and had 19.5 sacks for Tampa Bay. These are just three names they could have signed. They instead opted to trade a future third and pay Clowney $8 million and let him walk the following year.
The point is the Seahawks do spend in free agency but spread around their assets. They diversify their free agency stock portfolio. And end up crashing every year, it adds up. If you have a position of need. It's okay to pay for that need and not give up a third here, $8 million there. Corey Linsley for example would be better than Kyle Fuller. At $12.5 million this season is covered halfway by Ethan Pocic's $3 million and by Witherspoon $4 million ($2.5 million the Seahawks loss to sign him) Instead of spreading the money to backups just pay impact players. It has better odds of paying off.
Stuck In a Vicious Cycle
The Seahawks over the last four or more years have had impact players leave and not been replaced in a meaningful way. They miss in the draft and must trade for veterans to rectify those mistakes. Then let them walk to save money or they don't work out then trade again for another filler.
This thread alone should sum up the Seahawks. Trade Frank Clark because they have only four picks and he'll want $20 million a year. Trade for Jadeveon Clowney with picks because the Hawks have a massive hole to fill after trading Clark. Clowney leaves after one year deal. Don't sign any meaningful free agent player. Trade a pick and a bust of a free agent signing in B.J. Finney to Bengals for Carlos Dunlap to rush the passer.
That aged the DE position by four years. Paid $15 million (Clowney, Finney, Dunlap) over two years and giving up a 2020 third, fifth, and finally a seventh for Clowney and Dunlap the last two seasons to produce seven sacks. That is draining money and draft capital to save money and add draft capital. They made lateral moves to be worse on the field.
Where Is The Franchise?
Spinning wheels to patch together a decent team for the year and figure it out next year. Just like this 2021 season. The 2020 draft has promise. And only have three picks to show in the 2021 draft in the past offseason. The question is, will enough foundation be found in time? Six picks in 2022 and no first yet again. With this track record, it leaves a dark cloud over the future hope of this franchise.
Major changes need to come. And trust me they will this offseason. It is clear that in hindsight the team doesn't have a vision for the roster. Now it may be too late to build up a contender with the hardest piece in place. A franchise QB that is soon to be 33 and coming back from an injury later this year.