The 2021 Mariners season was full of ups and down, though all things considered the team thoroughly exceeded expectations and finished with an astonishing 90-72 record. It was a team effort to blow past projected and expected wins like they did, although certain players had a larger hand in the franchise's first 90-win season since 2003. In this article I will hand out years-end awards to those players who stood out in the historic 2021 season.
MVP—INF Ty France
Ty France cemented himself as one of the best hitters in the American League in 2021, leading all Mariners players with 3.5 WAR and 129 wRC+, as well as leading in batting average and OPS. In addition to often carrying the team offensively, France played Gold Glove caliber defense at first base, as well as attempting a couple other positions. Ty also set a Mariners franchise record for times hit by a pitch in a season with 27, which is an awfully painful way to leave your mark on the record books. France has earned the starting first base job in Seattle and the 27-year-old should continue to anchor this lineup for years to come.
Cy Young—RHP Chris Flexen
Chris Flexen played the 2020 season for the Doosan Bears of the Korean Baseball Organization and had one of the best individual seasons by a pitcher in KBO history which earned him a 2-year deal with the Mariners. In his first season in Seattle Flexen has exceeded any expectations anyone could have reasonably had for him. He not only established himself as a starter but has been the most consistent member of a Mariners rotation that has seen its struggles with injury and inconsistency. The still only 26-year-old lead all Mariners pitchers in starts with 31 and WAR with 3.0, as well as leading starters in ERA, though there are not many who have pitched enough to qualify. Flexen has another year of club control in 2022 and looks to be a mainstay in Seattle's starting rotation.
Rookie of the Year—RHP Logan Gilbert
Logan Gilbert began the year in Triple-A Tacoma as the Mariners top pitching prospect. Since his callup in May he has provided a spark in the rotation despite some growing pains at times. His 2.2 WAR was second among pitchers only to Chris Flexen and his 124 strikeouts even exceeded Flexen despite starting fewer games. The lanky righty used his mid-90s fastball and wipeout slider with his elite arm extension to rack up K's and whiffs all season and the best is likely yet to come for Logan as he continues to navigate his big league career and get a better feel for his other pitches.
Reliever of the Year—RHP Paul Sewald
The Mariners bullpen was the strength of the team all year long and they may have had the weirdest relief ace in baseball. Paul Sewald had a breakout age 31 season driven by a 2-pitch mix featuring a fastball that only touches 93 and really came out of nowhere. Despite his age and underwhelming raw stuff Sewald has been absolute nails this season. Sewald does not have a ton of saves because Scott Servais has used his de facto closer and the high-leverage fireman to pitch the most crucial moments late in close games, which often came in the 8th inning. His absurd 39.4% K-rate lead the team and he has consistently mowed down the teeth of opposing batting orders, and he finished second among MLB relievers with 104 strikeouts, despite starting the season in Tacoma. If you need more evidence of Paul Sewald's dominance this season look no further than an August 22 game in Houston. Sewald faced a bases loaded no-out situation and struck out the side in order to save a tie game the Mariners would eventually win. Sewald has captured the hearts of Mariners fans with his electric performance and passion of the mound, and he should be a key part of what looks to be a very good Seattle bullpen in the future.
Comeback Player—Mitch Haniger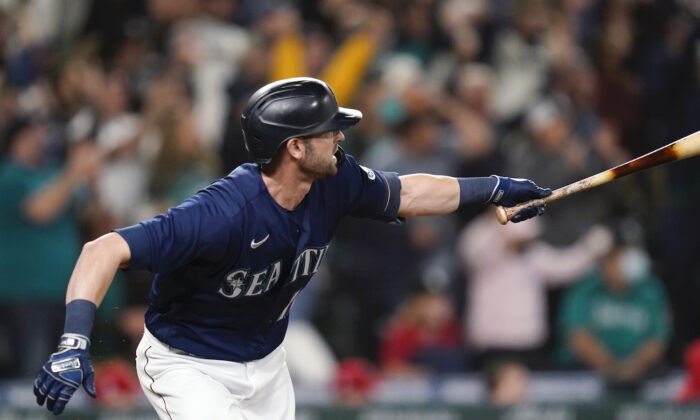 This one is a given; Mitch Haniger missed almost two full seasons following multiple injuries and setbacks beginning in 2019. In his long-awaited return to the field, he was spectacular, especially given time missed. He finished with a career high 39 home runs to pace the Mariners as well as a career best 100 RBI. Moreover, he stayed healthy through the entire season, with only a few games missed due to minor bumps and bruises. His powerful bat and veteran leadership brought a spark to the clubhouse and often set the tone on the field for a team lacking in both offense and veteran presence. If Haniger can stay healthy and continue his production, he can help propel the 2022 Mariners to even greater heights.
Biggest Surprise—Luis Torrens
If you had told most Mariner fans in May that Luis Torrens would be batting fifth in one of the biggest series of the season and it would be a good thing, they would have called you crazy. Torrens' improvement this season has been incredible, following a stint in triple-A Tacoma where he adjusted his approach at the plate. His exit velocities on batted balls have been tremendous and his adjustment led him to become a solidly above average hitter with good power. Even with his awful beginning to the season, Torrens finished with a 101 wRC+, .243 batting average and 15 homers, including many to the opposite field. Luis has become a reliable bat for a team that desperately needed it, but he still doesn't really have a position, and his defense is not very good at catcher, first base, or any other position. If he can develop his defense somewhere he could be a good player for a good team for years to come.
Most Underrated—Casey Sadler
In a unit as dominant as the Mariners bullpen, there was bound to be someone flying under the radar. In this case it's right-handed reliever Casey Sadler. Sadler was claimed off waivers in 2020 and pitcher well in the shortened season for Seattle. This year, however, has been another gear for Sadler, who pitched to the tune of a 0.67 ERA—which would lead the American League—as well as a 2.48 FIP in his 40.1 innings pitched. Sadler set a franchise record with 29 consecutive scoreless appearances. Scott Servais used Casey as a versatile early-inning fireman reliever who would often pitch following starters leaving the game, many times inheriting and stranding runners on base to help save games. His ability to pitch multiple innings earlier in games gives Sadler a unique skillset in the Mariners 'pen that made him a key piece in their consistent success.
Gold Glove—J.P. Crawford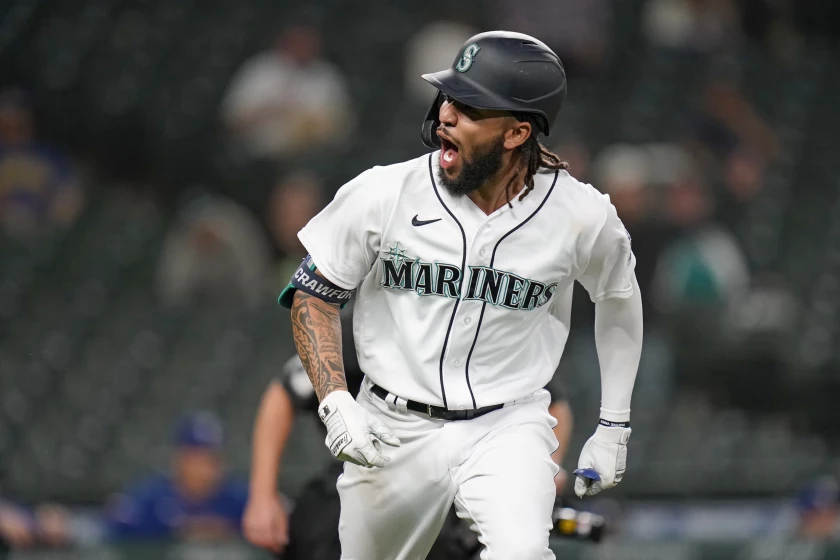 What more can be said about J.P. Crawford and his defense? The 2020 Gold Glove winning shortstop has continued his incredible, flashy defense in 2021, and is one of the best overall defenders in the American League. Crawford's defense is incredible and could be talked about all day, but his ability with the bat and his leadership have been impressive this season. He has added an average at worst bat to his Gold Glove defense posting a 103 wRC+ and career bests in nearly every offensive category. His energy and leadership are also incredible to see and have made him a fan favorite. From the "J. P." chants to his recognition that he is a team leader and this is effectively his team going forward, Crawford has captured the heart of the city and established himself as a critical part of this new era of Mariners baseball.
All stats per Fangraphs